HiBrew H2 coffee machine review
Publish date: written by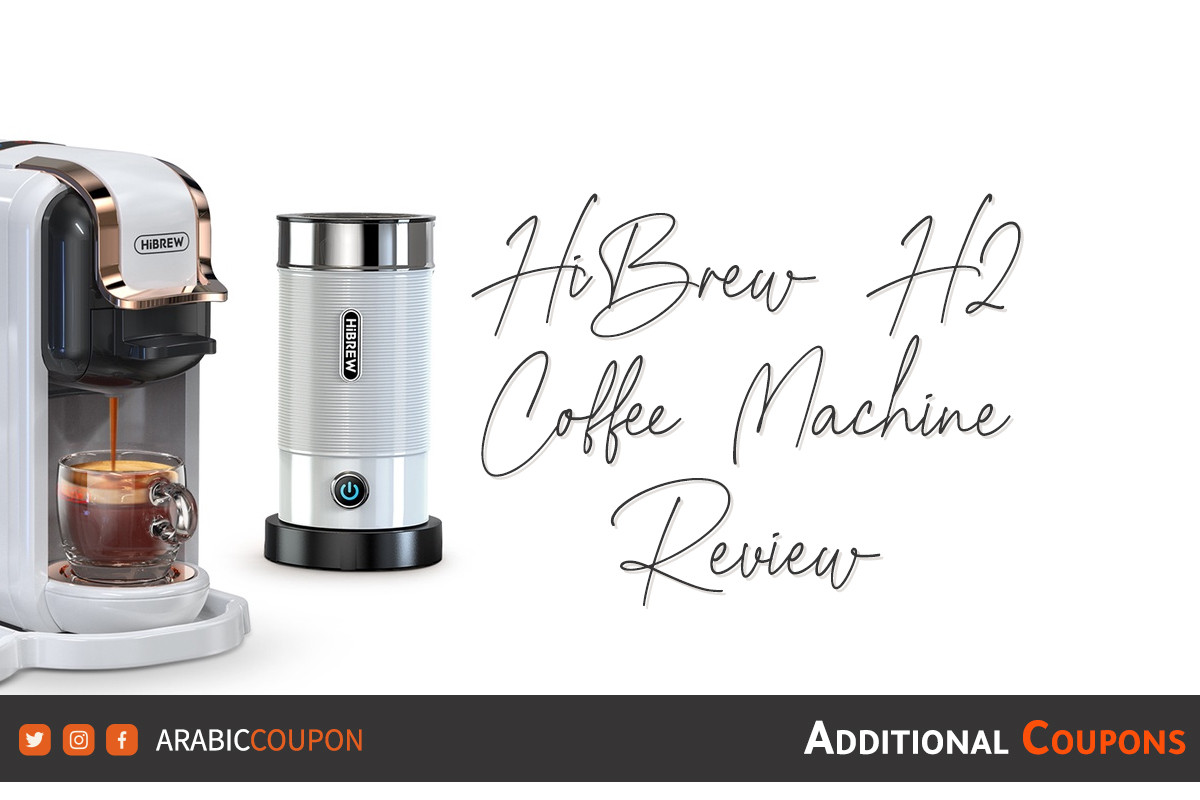 Today, with the great spread of electronic commerce in the world, we can carry out the shopping process in our homes without the need to move around, and the goods will reach us at the doorstep of the house, so with this expansion of shopping we are no longer confined to a brand or product provided to us by retail in Bahrain, this The same applies to coffee machines as well, which makes us today choose one of the best coffee makers that can be shopped online from the most reliable online shopping sites, and because questions are repeated about the HiBrew H2 coffee machine, we decided to try it and show you a detailed review of it through the online shopping guide Which makes online shopping simpler and easier.
| HiBrew H2 coffee machine Pros | HiBrew H2 coffee machine Cons |
| --- | --- |
| HiBrew H2 multifunctional coffee machine supports all types of capsules | The water tank capacity is somewhat limited |
| A cup of coffee can be made in just 40 seconds | |
| The pressure force to prepare coffee is 19 bar | |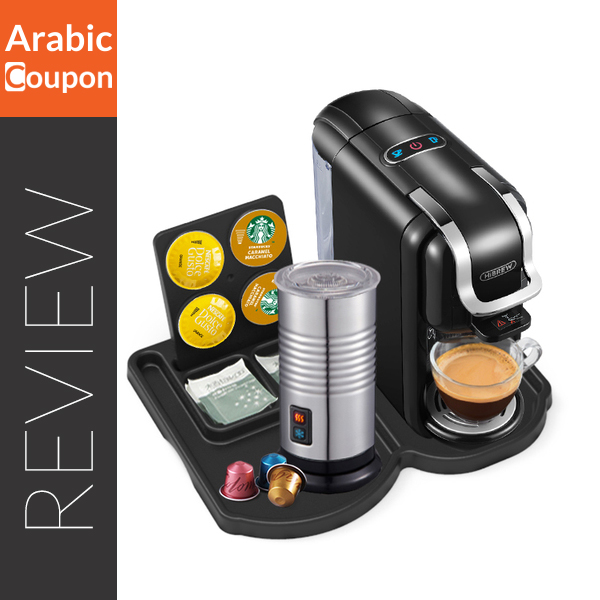 Lovers of capsule coffee machines are usually annoyed by the limited flavors available, so with the HiBrew coffee machine, it has given you free rein, as you can use Nespresso capsules, Dolce Gusto capsules, or KCUP, or even use ground coffee, which makes you prepare the coffee that suits you best. Easily.
Whoever loves coffee knows very well that preparing a cup of coffee with ground coffee has an indispensable and irreplaceable taste, so this machine gives us the opportunity to make a cup of coffee through ground coffee in addition to the capsules, so you only have to roast and grind the coffee until it is fresh and enjoy the taste And the delicious smell.
Also, one of the important issues that distinguishes this machine is the preparation of coffee mixed with milk without the need for a steaming machine, especially when using capsules, but lovers of preparing cups of latte or cappuccino and many others in a professional way, they will be happy with the milk evaporation device to add a creamy texture to their daily coffee.
Of course, the fascination with the specifications of this machine cannot distract us from reviewing its main function, which is to try the taste of the coffee it makes, and of course the result was as we expected impressive, as through its pump that has a pressure of 19 bars and a motor that works with a power of 1450 watts, you will be able to extract All the flavor in a capsule turns it into an irresistible cup of coffee.
With the fast pace of daily life, we must have devices in the kitchen that help us prepare food and drinks in a quick way, and among these machines we find the HiBrew H2 coffee machine, which through rapid heating will prepare a cup of coffee within 40 seconds, unlike many other of coffee machines.
The user of the HiBrew H2 coffee machine will not find any problems or difficulties in filling the water tank, as it can easily be disassembled, cleaned and reinstalled. It is also easy to disassemble the cup base to wash it from the suspended coffee drops, so the process of using the HiBrew coffee maker is distinguished by its ease of use.
The HiBrew H2 coffee machine takes into account all the tastes of coffee lovers, as it enables them to prepare two types / sizes of coffee cups, the first is concentrated with a size of 70 ml and the second is large with a size of 110 ml easily and quickly through only one click.
This machine comes with a compact, simple and very elegant design. It has an operating button on the top and two buttons to control the volume of coffee, which makes it easy to use for all ages. It is also made of BPA-free plastic with a very light weight for easy change of place, all this in a black color and a chrome touch for many Luxury without neglecting the rules of installation.
We all know, especially coffee machine lovers, that some of these processors make very loud sounds when they are turned on. This is not the case with the HiBrew H2 coffee machine, as it comes with a noise level of 68 dB, so you will enjoy preparing coffee quietly.
It may come to the mind of the online shopper that after all these features, this machine will be at a high price, and it is the one that combines 4 functions, and the truth is quite the opposite, as it is considered very economical compared to what is available today in Bahrain markets, and you can compare prices to find out about these The very important point.
The first thing that the shopper looking for coffee preparations will notice is that the size of the water tank of the HiBrew H2 coffee machine is very small, with a capacity of 600 ml, and it is sufficient for simple daily use only.
It may be a negative point for some that this machine was made of plastic materials that are subject to scratching and do not withstand shocks, but this can be avoided by taking care of it when using it, especially if we know that plastic is a material that greatly reduces the price of electronic tools.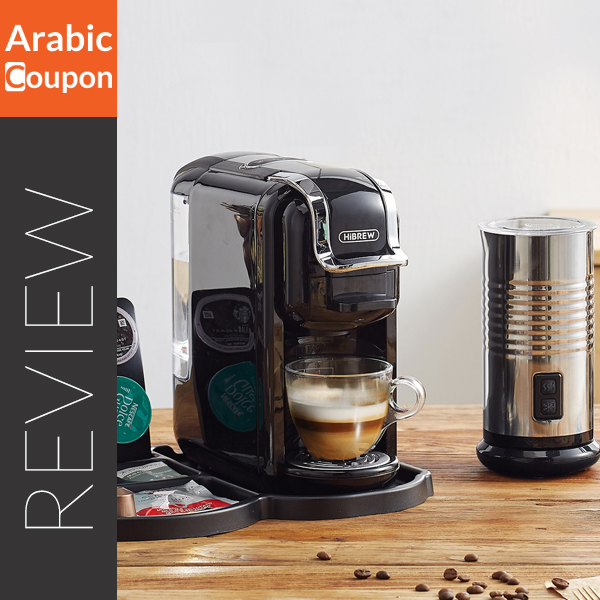 | | |
| --- | --- |
| Brand | HiBrew |
| Model | H2 |
| Model# | H2 - 4in1 |
| Pressure strength | 19 Bar |
| Engine power | 1450 watts |
| Speed of heating | 35 Sec |
| Water tank capacity | 600 ml |
| Milk vaporizer | Separate |
| Coffee grinder | NO |
| Automatic extinguishing | YES |
| Capsule type | Dolce gusto capsules, Nespresso capsules, KCUP capsules and ground coffee |
| | |
| --- | --- |
| Performance | ★★★★★ |
| Reliability | ★★★☆☆ |
| Coffee quality | ★★★★★ |
| Ease of use | ★★★★★ |
| Price for machine | ★★★★★ |
| Ground / Pods coffee price | ★★★★★ |
| Availability of ground coffee & Pods | ★★★★★ |
| Final evaluation | ★★★★★ |
If we look closely at the essential specifications of this machine, this will be a reason for us to overlook its negative aspects. Why not, as it provides us with four functions of great quality without the need for us to buy additional devices, which is an advantage that only coffee lovers know its value, and its very reasonable price is one of the reasons that It pays us to get it, and as for the advantages of use, they are numerous, including those related to ease of use by all family members, young and old, and some related to the speed of use, which responds quickly to the needs of the user, especially in the morning and before going to work when time is pressed.
| | |
| --- | --- |
| Buy the HiBrew H2 coffee machine from AliExpress | CLICK HERE |
| HiBrew H2 Coffee Machine with Milk Steamer and Tray Price in Bahrain | 51.9 BHD |
| AliExpress promo code | CLICK HERE |
| | |
| --- | --- |
| Buy HiBrew H2 coffee machine from Noon website | CLICK HERE |
| Noon HiBrew H2 Coffee Machine in Bahrain | 69.9 BHD |
| Noon promo code in Bahrain for all purchases | |
HiBrew H2 coffee machine review and best price - 2023
Pros, cons, and the best price on the HiBrew H2 coffee maker in Bahrain, in addition to discount codes and coupons for online shopping
More of Top Stores Coupons in Bahrain
HiBrew H2 coffee machine review and best price - 2023
Pros, cons, and the best price on the HiBrew H2 coffee maker in Bahrain, in addition to discount codes and coupons for online shopping